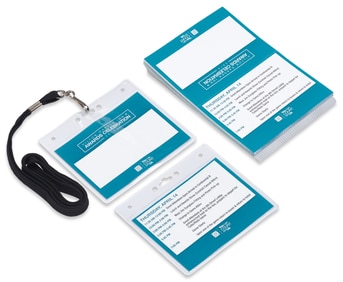 4" x 3" Two-sided - 2 Color
4" x 3" Two-sided - 2 Color
Item # W-FLX-F-4x6-2
per 1,000 badges
Price:
| | |
| --- | --- |
| | |
| 1 | $431.88 |
| 2 | $398.18 |
| 3 – 4 | $282.04 |
| 5 – 7 | $177.00 |
| 8 – 9 | $150.68 |
| 10 + | $155.04 |
Two-Sided 4" x 3" Custom Printed Event Badge - Two Color
---
This event badge measures 4" x 6" with a center fold to create a two-sided 4" x 3" badge when folded. Simply design and print a 4" x 6" size badge using your direct thermal printer. Make sure to rotate the text on the bottom portion of the badge to print upside down. Once printed, fold the badge in half at the center perforation to create a two-sided 4" x 3" badge.
Event badges printed using two PMS ink colors are a great economical choice for small events or small budgets. You'll receive top-of-the-line badges with vibrant custom printing on smooth, white stock and effortless on-site printing. Plus, our event badges feature precision perforations between each badge which means sturdy, break-resistant badge feeding through your on site printers, yet separate easily post printing for speedy attendee badging.
Features & Benefits
Excellent print results using Zebra® direct thermal printers.
Smooth, white high quality badge material.
Vibrant custom ink color.
Fan-folded in stacks for easy printer loading and feeding.
7pt tag stock developed specifically for excellent custom print and variable data print clarity.
Black sensor mark included on back side of badge. Ideal for 'mark sensing' print media preference.
Typical custom order production time is 10-15 days. We'll confirm production and delivery expectations once we receive and review your provided artwork.Specifications for Submitting Badge Artwork:
(Custom badge artwork should be created exactly as you want it to appear on the badge)
Illustrator (ver 6.0 or higher) preferred
Flexo Printing: PMS color specified channels indicated for each printing color
No bleeds on tag stock badges
Allow for 1/16" non-printing on all edges
Convert fonts to outlines
Save and send as a vector file (eps or ai file)
---
Please Note:
- Order minimum for 2-color custom printed badges is 1,000 badges.
- Any quantity above 1,000 badges is acceptable--no need to order in specific increments.
- Two printing plates will be required with each new order. $150.00 will be added to order for two printing plates.

Don't see what you want, or have questions? We're here to help!