Custom SuperBadge - Mark Sense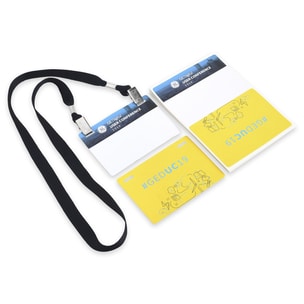 The ultra-durable, cost-effective onsite event badge solution for mark sensing printer settings.

Tear-resistant, durable SuperBadge does not need a badge holder. Plus, you can add schedules, maps, and other information to the back of this double-sided badge.
Designed to print effortlessly with most direct thermal printers.

What is Black Mark Sensing?
SuperBadge with black mark sensing features a thick black line printed on the liner side. This black mark is used by the printer to determine the start and stop of each SuperBadge. The printer setting must be set to black mark and the sensor must be positioned to "see" the solid black line.

To assemble SuperBadge, simply peel away the backing and fold the badge like you're closing a book. It's fast and easy!