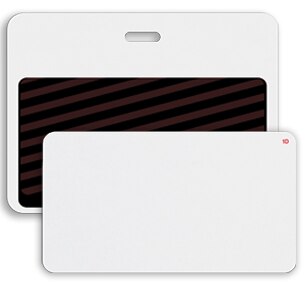 4" x 3" Expiring Badge Set - White
4" x 3" Expiring Badge Set - White
Item # EXKF-4x3-1CLP-WHT
1,000 per box
Two Piece Set
4" x 3" Expiring Badge Set for Visitor Identification - Plain White Title Bar
---
This complete set includes a full expiring top piece and a plain white clip-on style badge back piece. The large slotted expiring badge back features red bars for easy "expired" identification. Simply apply the expiring badge front (included) to activate the expiring process.
- Badge Front Piece Size: 3.9" x 2.4"
Includes reusable cartridge.
- Badge Back Piece Size: 4" x 3"
1,000 badge sets per box.
Features & Benefits
Finished Badge Size: 4" x 3".
Easy two-piece activation.
The color-changing process begins when the expiring top piece is adhered to the back piece.
Vivid Red expiration bars show fully expired within 1 day.
Black mask print on badge back reduces premature visibility of red expiring bars.
Print variable data on the front piece using DK-1202 page settings on Brother QL series printers.
Front pieces are packed 250 labels per roll and include a reusable cartridge.
Badge backs are perforated between badges and fan-folded.
Manufactured in the USA.
Ships in 5-7 business days
---

Don't see what you want, or have questions? We're here to help!