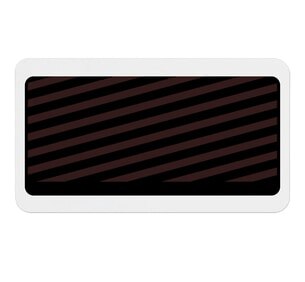 1-15/16" x 2-7/8" Expiring Adhesive Back Piece - Bar Print
1-15/16" x 2-7/8" Expiring Adhesive Back Piece - Bar Print
Item # EXBP-1.9x2.8-ADH-B
1,000 per box
Back Piece, Adhesive
Expiring Adhesive Badge Back Piece for Visitor Identification for Direct Thermal Expiring Badge Fronts
---
This adhesive expiring badge back features red bars for easy "expired" identification. Simply apply an expiring badge front to activate the expiring process. This expiring set adheres directly to clothing.
Requires purchase of top piece. Item #: EXDTF-1.9x2.8-ADH
Same as TempBadge® item: T6032A
Size: 1-15/16" x 2-7/8"
1,000 badge backs per box.
Features & Benefits
Finished Size: 1-15/16" x 2-7/8"
Easy two-piece activation.
The color-changing process begins when an expiring top piece is adhered to this back piece.
Vivid Red expiration bars show fully expired within 1 day.
Black mask print on badge back reduces premature visibility of red expiring bars.
Adhesive back pieces are perforated between pieces and fan-folded.
Manufactured in the USA.
Ships in 5-7 business days
---

Don't see what you want, or have questions? We're here to help!